Customer Reviews
07/09/2021
Anthony L.

United States
A must have!!!!
The table is very well built and holds up to marine standards. Thanks docktail
04/26/2021
Miguel L.

United States
Great product!!!!!
Great product, very well made.
01/04/2021
Andrew S.

United States
Awesome
Product is solid and feels robust. The magma rod holder is strong and holds the position well. Will need to do a test at speed to ensure the table stays in place when underway but am guessing that will work fine also
08/02/2020
David S.

United States
Perfect boating accessory
Quality product that serves a dual purpose, Fishing and relaxing , Best of all made in the USA
08/02/2020
Holly R.

United States
Perfect addition
We ordered this table as a Father's Day gift and it came in time even during the pandemic. It was a perfect addition for my dads boat. Fit perfectly in the rod holder and gives us more room to store our drinks!
07/03/2020
Angela S.

United States
Quality Product
This is a sturdy, well-made product.
06/02/2020
CAitlin K.

United States
Best purchase for the boat ever
We have been living our purchase. We have a boat on Lake Michigan so being able to flip from a filet table to a drink holder table has been amazing. It saves so much room on the boat especially with 3 kids
05/12/2020
Michael P.

United States
04/14/2020
Delson E.

United States
Awesome multiple use boat table.
I received this item on Friday and put it to immediate use on Saturday for a 13 mile excursion into the Gulf of Mexico. It not only can hold your food and drinks when its lunchtime but serves as a working table while trying to land that trophy fish that we all seek while off-shore. I would recommend to anyone interested as its very versatile, easy to use, and cleans up nicely. Thank you Docktail Bar for a well designed and useable table.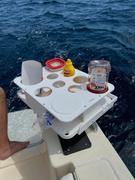 03/09/2020
Armando A.

United States
DocktailBar for my buddy
Given as a birthday gift to my best friend to replace one blown away by Hurricane Irma! He loved it!
02/18/2020
Theodore W.

United States
Unbelievable All I can Say
These guys have their stuff together great customer service.."Steve" and quality products !!!!!
12/04/2019
Jeremy K.

United States
Great concept, great product
Ordered this as a gift for my boyfriend. When it arrived he noticed that the bait table was made incorrectly. I sent an email and received a response almost instantly. We sent a picture of the table and Docktail saw it was their error. They immediately shipped a new (correct) table. This is the kind of customer service that is lacking with other companies. We are extremely happy with the product and cannot wait to use it. Thank you Docktail Bar for creating such an amazing product.